Master of Digital Media | Ryerson University | Research Project
Digital Museum Experience:
Exploring Opportunities For Mixed Media Storytelling Using Augmented Reality
With rapid developments in digital technologies in the past decade, museums have an incredible opportunity to present and interpret their artifact collections in more accessible, exciting, and innovative ways. In today's climate with tourism ceased on a global scale due to the global pandemic of COVID-19, many of the surrounding arts and cultural heritage communities are facing unprecedented social and economic challenges. As museums are making extensive efforts to provide alternative services through various digital media for visitors to access their collections remotely, it is more important now than ever, to re-think and explore alternative means for viewing artifacts.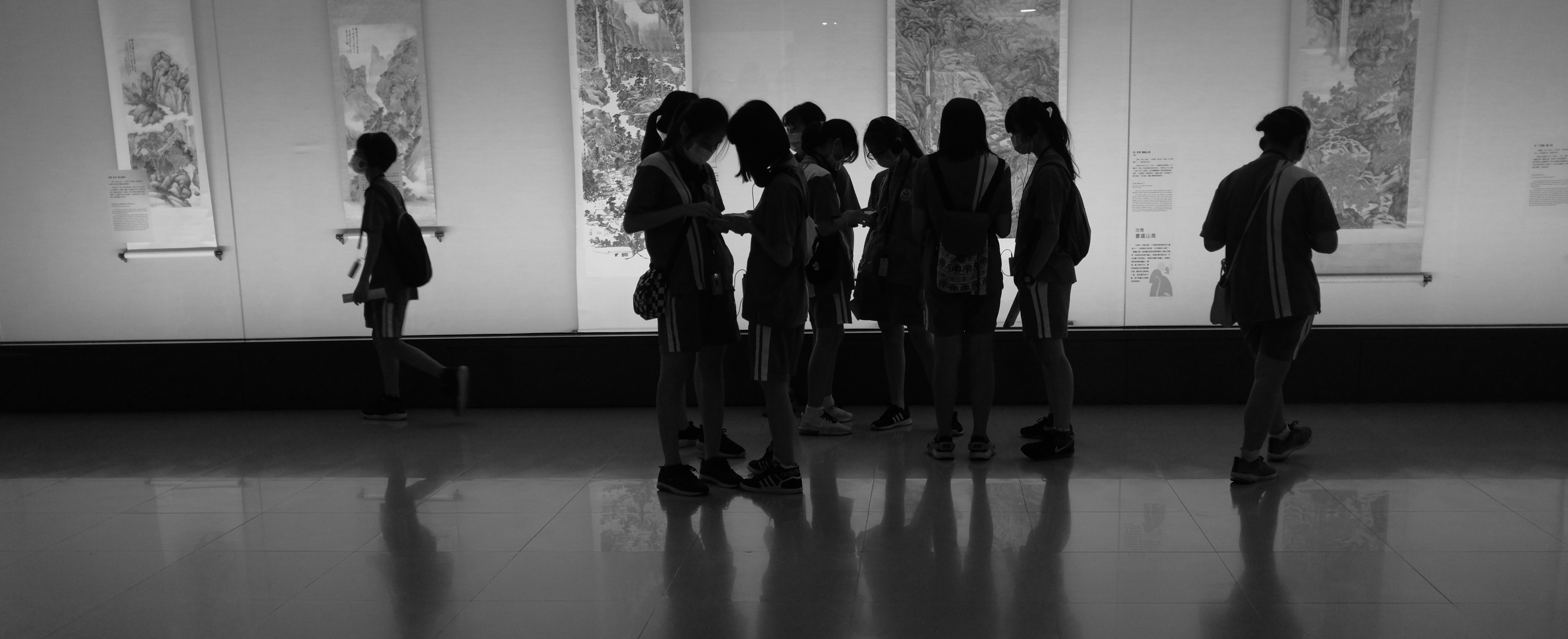 The Challenges
The majority of museums cannot exhibit their entire collections to the public. This may be due to several reasons, such as limited space, limitation in traditional approaches, the nature of the artifacts, or the overall lack of funding and resources available (Wojciechowski et al., 2004). Even when museums do exhibit parts of their collections, museum visitors often experience some form of constrained interaction (Wojciechowski et al., 2004). For example, many museums have a 'no-touch' policy to the general public and visitors cannot touch or closely examine the artifacts from all angles. These restrictions make it difficult to compare and study cultural artifacts. This research project empirically investigates following two main questions.
Research Questions:
How can mobile AR technology improve access to cultural artifacts that are fragile, rare, expensive, or overall inaccessible to the general public?
How can mobile AR technology paired with storytelling enhance public engagement with cultural artifacts?
Solution
Mobile augmented reality is a promising technology for cultural heritage museums because it offers powerful, highly engaging, and cost-effective solutions for visitors to interact with their collections in both an informative and entertaining way. It enables museum visitors to be active learners rather than distant observers of cultural artifacts. The following research project, ARGO, explores how augmented reality combined with mixed media storytelling can be used to improve access to cultural artifacts and to encourage meaningful learning, exploration, and discussion of cultural heritage.
---
The Research Project: ARGO
ARGO is a mobile augmented reality app that can be used in combination of printed materials for a storytelling experience with a collection of artifacts. Through the power of storytelling it allows users to become immersed into the story and contextualized information of the artifacts. This research project is a cumulative proof of concept developed as part of my research paper, Digital Museum Experience: Exploring Opportunities for Mixed Media Storytelling Using Augmented Reality.
Keywords: Digital Museum, Digital Preservation, Digitization, Archival Material, Augmented Reality, Mobile Augmented Reality, Mixed Media Storytelling, User Experience, and Digital Media
Tools: Unity, Vuforia, Blender, Adobe XD, Adobe After Effects, Adobe Illustrator, Adobe Audition
Platform: IOS Application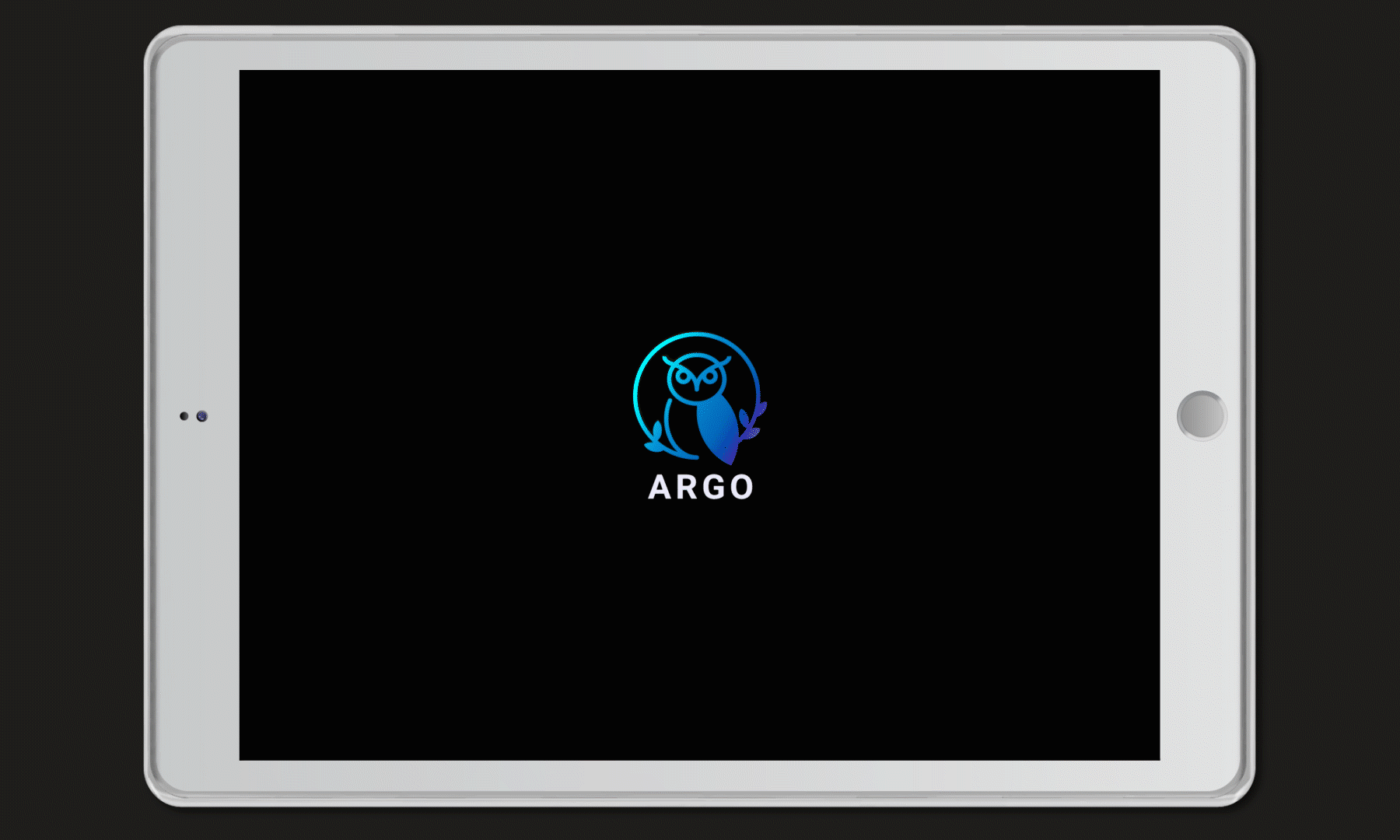 Sample of the ARGO App Interface for an Ipad Device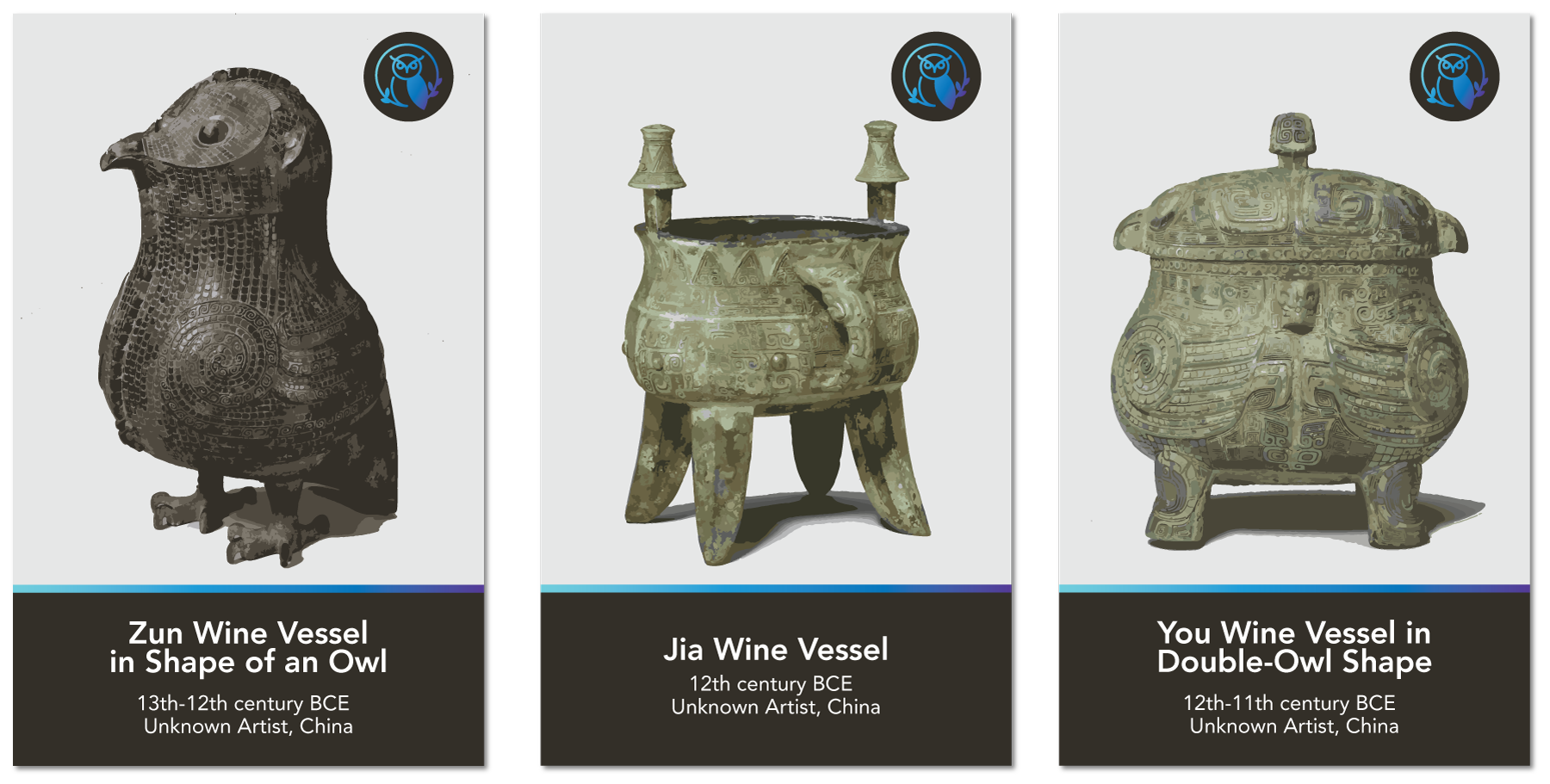 Sample of the AR artifact cards for print. They serve as both AR image targets and collectable items for visitors.
---
Process & Development
The development process of ARGO included a user persona, a user experience map, wireframes, prototyping, user-testing, and evaluation. This project also underwent several iterations during the prototyping process.
Target Demographic & User Persona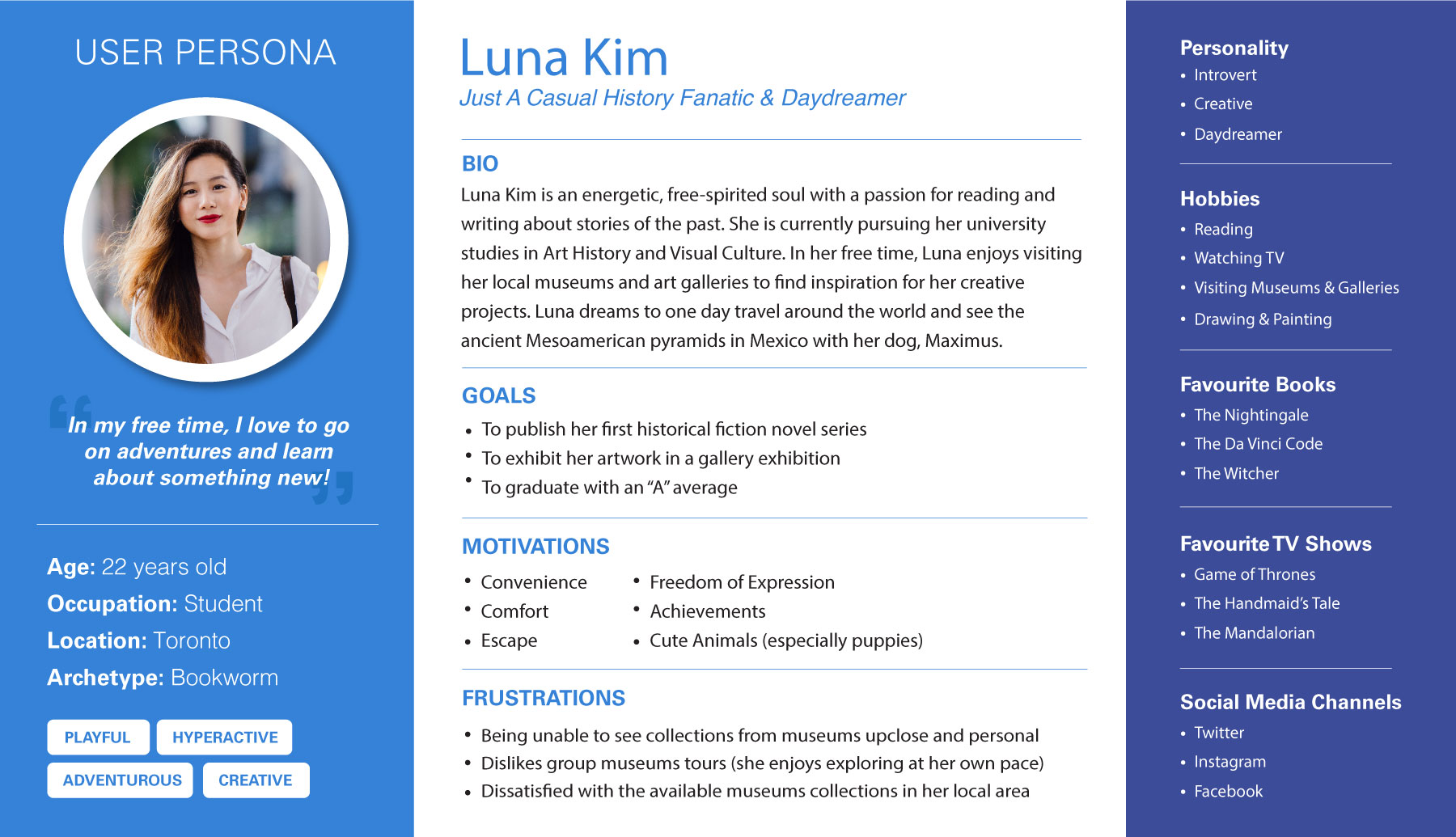 User Experience Map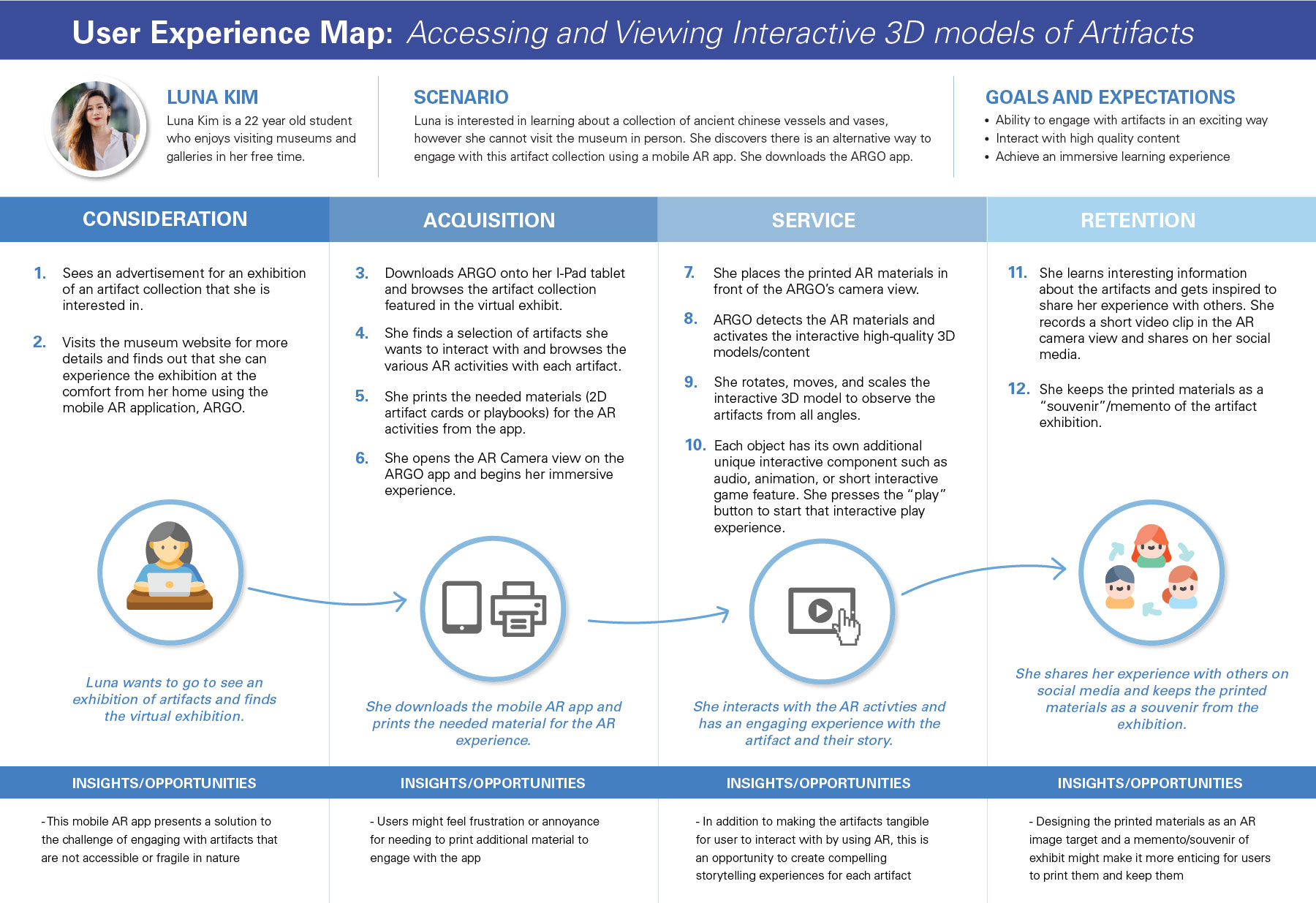 Sketches & Wireframes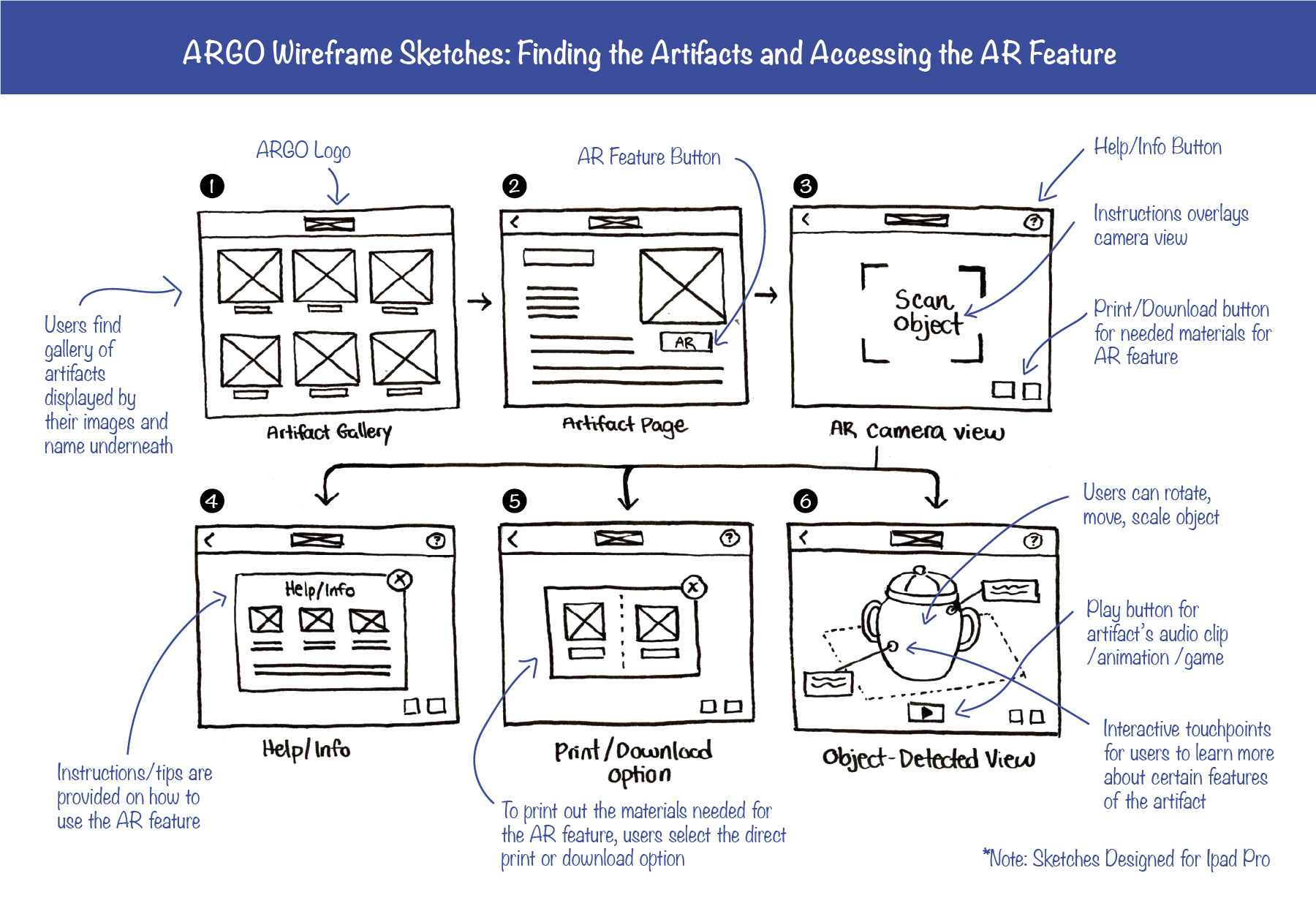 Conclusion & Future Work
Although augmented reality has great potential in improving a visitor's access and interactions with artifacts and their contextualized information, there are technical and social challenges that should be considered before readily adopting AR for digital museum experiences (Marques & Costello, 2018). A review of literature revealed that some of the primary concerns of adopting AR by the museum community include gimmickry, detraction of the museum experience, and user-cognitive overload. In my research paper, Digital Museum Experience: Exploring Opportunities for Mixed-Media Storytelling Using Augmented Reality, the need, efficacy, and usability evaluation of augmented reality for digital museum experiences is analyzed through a comparative case study analysis of existing AR applications used by museums. This research project suggests through prototyping an impactful mobile AR experience that meaningful learning, exploration, and discussion of cultural heritage can be achieved by participants when interacting with digital 3D models of artifacts in a mixed media storytelling narrative.
---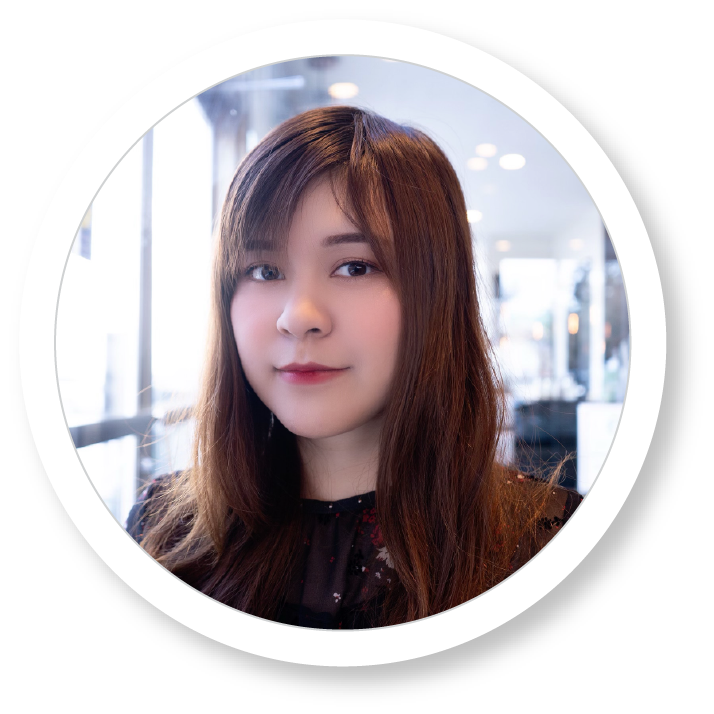 Aline Nguyen
Aline Nguyen is an interdisciplinary designer, artist, and storyteller.
She is currently pursuing a Master of Digital Media at Ryerson University.
Email: aline@erakon.ca
👋 LinkedIn
ARGO is a research project presented to Ryerson University in partial fulfilment of the requirements for the degree of Master of Digital Media in the program of Digital Media. I would like to extend my gratitude and a special thank you to my supervisor, Dr. Naimul Khan, and second reader, Dr. Richard Lachman, for their guidance and support on this academic journey.
---
References
Marques, D., & Costello, R. (2018). Concerns and Challenges Developing Mobile Augmented Reality Experiences for Museum Exhibitions. Curator: The Museum Journal, 61(4), 541-558. https://doi.org/10.1111/cura.12279
Wojciechowski, R., Walczak, K., White, M., & Cellary, W. (2004). Building Virtual and Augmented Reality Museum Exhibitions. Proceedings of the Ninth International Conference on 3D Web Technology, 135-144. https://doi.org/10.1145/985040.985060
Attributions & Image Sources